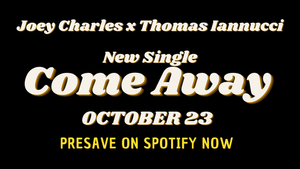 Thank you so much for joining me on this new journey. 
As some of you may have heard on my facebook announcement I have some big things coming up in the next month.  It's been 5 years since the release of Tales Of A Wandering Heart and two years since I've released any new music.  Now that is about to change. 
It was less than a year after I released Tales of A Wandering Heart that I went back into the studio to record more songs and try and share more stories, but you might be able to tell that things didn't go as smoothly as I wanted.  There have been many ups and downs over the last 5 years, but i've learned so much along the way.  I now feel ready to share my new project. 
First, I am excited to announce a brand new single coming out on October 23.  The Song is called COME AWAY and it features the award winning Hip Hop Artist Thomas Iannucci.  If you're a Spotify User and you'd like to be the notified when this song is released, please click on the picture below and PRESAVE the song on Spotify now! 
This song has been in the works for literally years.  It is a powerful song dealing with the shame of failure and it forced me to really search myself for the right words to tell this story.  With the help of Thomas' powerful verse, Come Away is a song that I pray will shed light into the darkness of Addiction and bring hope for many. 
Second,  I announced that I will finally be releasing my second album on NOVEMBER 13.  The title of the album has yet to be released, but I will be sharing more about this project in the coming days.  I did share that it is a little bit different then any project i've done before and it will have more than just music.  I've always strived to tell stories in whatever way I felt they needed to be told and this project is putting my comfort zones to the test.  I will be sharing more as the release date draws closer, but I wanted to let you know one specific thing. 
You will be able to pre order the album starting this coming SUNDAY OCTOBER 18th on my website!  A Pre Order will give you the choice of either ordering a CD or a Vinyl version of the new Album and as a thank you for ordering early you will receive a digital copy of the album as well. 
Ordering during this time will allow the remaining funds to be raised for creating the physical copies, while allowing you the opportunity to hear the album before it is released!  If you'd like to help keep this dream moving forward please consider buying a pre order copy this coming Sunday, otherwise it will be available for listening on November 13. 
Once Again thanks for joining me on this journey and I pray that you and yours are doing well during this crazy time in our worlds history! 
Blessings, 
Joey Charles